Bio
What I love to do? Write. Talk about writing. Dive into writing with others. I'm geeky that way. Through facilitating writing groups and teaching for 30 years, I've witnessed writing transform people, open them like time-lapse photographs of blossoms. Right now I'm leaving full-time teaching to write full-time and to lead one-to-one and group writing collaborations. It's the perfect time. It's exactly where my passion is leading me.
Tentatively titled, Any More, Black Shoe, my novel-in-progress imagines the intersecting lives of Sylvia Plath and Maryanne Buckley, a fictitious younger sister of William F. Buckley, Jr., in 1953. My debut novel, Carry the Sky (Forest Avenue, 2014) takes an unblinking look at bullying. My first full-length book of poems, Another Sunset We Survive (2007) was a finalist for the Oregon Book Award and followed chapbooks, Bone-Knowing (2006), winner of the Gertrude Press Poetry Prize and Where She Goes (2000), winner of the Blue Light Chapbook Prize. Over the years I've been so lucky to be awarded residencies at Hedgebrook, Norcroft, and Soapstone, and a fellowship from the Oregon Literary Arts. My poetry and essays have been nominated for Pushcart prizes. What lights me up, besides writing, is teaching, coaching writing, and volunteering with women inmates and women Veterans. My partner and I live in a purple house in Portland, Oregon with our sidekicks, Rafi and Wasco, two very patient dogs.
Print
Carry the Sky, OR: Forest Avenue Press, 2014.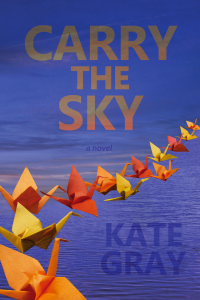 Kate Gray takes an unblinking look at bullying in her debut novel, Carry the Sky. It's 1983 at an elite Delaware boarding school. Taylor Alta, the new rowing coach, arrives reeling from the death of the woman she loved. Physics teacher Jack Song, the only Asian American on campus, struggles with his personal code of honor when he gets too close to a student. These two young, lonely teachers narrate the story of a strange and brilliant thirteen-year-old boy who draws atomic mushroom clouds on his notebook, pings through the corridors like a pinball, and develops a crush on an older girl with secrets of her own. Carry the Sky sings a brave and honest anthem about what it means to be different in a world of uniformity.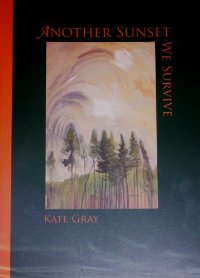 Another Sunset We Survive, Friday Harbor, WA:Cedar House Books, 2007. Poetry.
Bone Knowing, winner of Gertrude Prize, 2006. Poetry.
Where She Goes, winner of Blue Light Prize, 1999. Poetry.
Online Publications
Poetry
Where We Are & Gratitude, Where's Your Living Room. com, Winter 2016-2017
For Every Girl & Reassurance, 2 poems plus audio, 2016 Jeff Marks Poetry Prize honorable mention (december)
Coma (Blue Mesa Third Prize), nominated for Best of the Net prize, 2013-14
Incantation for the Man Outside, Variations on Text by Justice and Vallejo & Pears (elohi gadugi)
Fiction
Storytellers Telling Stories, podcast, "Nothing to Forgive," excerpt from novel-in-progress, Dec. 2017
Essays
All the Longing Left in the Body
Book Review
Practicing a Gentle Art: Bart Edelman's A Gentle Man
Volunteering
Write Around Portland, free writing workshops for women in Coffee Creek Correctional Facility
Click HERE for a video about one former inmate's journey