When:
May 24, 2018 – May 27, 2018
all-day
America/Los Angeles Timezone
2018-05-24T00:00:00-07:00
2018-05-28T00:00:00-07:00
Where:
Buckhorn Springs Resort
2200 Buckhorn Springs Rd
Ashland, OR 97520
USA

Join us for a writing retreat in the beautiful valley of Ashland, and dive into the hidden pools of your genius. [retreat full, waitlist available. Please click HERE.]
In 3 days of unconditional love for the written word, you'll unlock the stories and voice waiting to flow through you.  With intuitive and skilled facilitation, Kate and Sarah will guide you into your body, heart, and creative wellspring.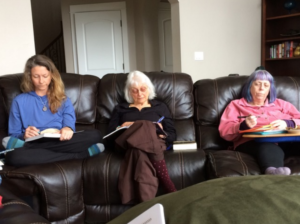 Utilizing the brilliance of Gateless Writing, a method based in the neuroscience of creativity, we will create an unequivocally safe writing space that will literally unlock your creative brilliance.  You will only hear about what is strong in your writing which will stoke the fire of your unique genius in powerful ways.  You will receive positive feedback, reflecting your gifts and one-of-a-kind strengths on the page.  There will be no critique in this creative space.  Purely positive feedback on your writing will unleash a creative wind like never before.  Your inner child can relax, your creative muse can exhale – you will be handled with care.
You'll walk away with a deeper connection to your creativity, the power of your writing, and your unique voice.  The week will include generative writing sessions, bodywork with Sarah, one-on-one coaching with Kate, delicious food, time to relax and wander in the woods, and our collective devotion to the soul-making play and sisterhood of writing.