You can't stand that little squeak. Under your elbows. When you pause to find the perfect word. You've set everything up perfectly on your farm table, the one your partner had refinished so you can feel the beauty of the wood when you write. But now it squeaks.
So, what can you do but grab your wrench and screwdriver and crawl under the table, because you're writing, after all. And what can your dogs do, but help?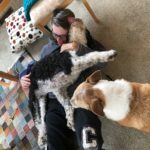 You think you might be able to manage your 50-pound Portuguese Water Dog, but pretty soon he's flopping on you while your senior dog lowers her ears and wants to get into the pile but supervises, instead.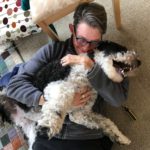 And even though you were writing about Sylvia Plath and reading her massive collection of letters that shows a girl who laughs, you think maybe part of writing is giving into laughter.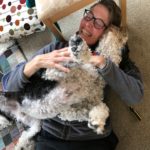 Because writing is like that. Tricky. Unpredictable. And even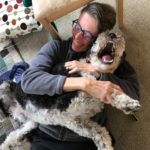 though you wanted to fix the squeak, even though you made an effort to do that, what you did instead was find something core in you, an insuppressible joy.
You did crawl under the table, tighten the bolts, find a screw to fit the hole where one fell out. You did return to Sylvia.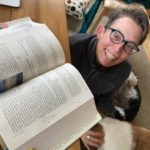 And you wrote with greater clarity, words coming from a different place, not the one concerned with that annoying noise your elbows made on the table.
For a great look at writing, read Brain Pickings' summary of Jeanette Winterson's tips. You know her writing, Oranges Are Not the Only Fruit.
For a workshop with laughter and learning, please join Kate Carroll de Gutes and me for a writing workshop:
Explore Point of View and Voice. What the heck are they? Are they different? Should you seek medical attention if you find them in your writing? Part generative writing, part instruction, this workshop will help clarify these writing elements. And you'll laugh. Guaranteed.
When: Wednesday, Oct. 24, 6-8pm
Where: Multnomah Friends Meeting, 4312 SE Stark St, Portland, OR 97215, Room 23
How much: $80-100 sliding scale
To reserve your spot, contact the taller Kate at dangpoet@gmail.com
If you don't know Kate, you should. She'll change your life with her laughter, with her writing. Kate Carroll de Gutes lives in Portland, Oregon in a house with lots of light, wood floors, and a view of the best bridge in the city.  In the evenings, she sits at her great-grandparents' quarter-sawn oak table and writes long-hand about grief, the drama of perimenopause and dating, riding bikes, and the joys and challenges of authentic living.  Also, she apparently uses a lot of compound nouns.
Won't you join us?