Being the first one to read in a line-up of powerful, kind writers means being the first to sit back down, being able to enjoy the rest of the evening after the adrenaline flushes. The reading last Monday night at Powell's was electric. The place was packed as you can see in the photo.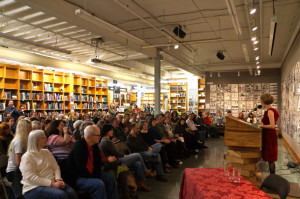 Laura Stanfill, editor of Brave on the Page and founder of Forest Avenue Press, is a force for writing in Portland. She is sweet-sweet, like the taste of a lilac blossom, and strong, like rivers. She brought 42 Oregon authors together in one anthology of interviews and "flash essays" about the craft of writing, and the books are print-on-demand through Powell's mini press, called the Espresso Book Machine, which prints a book while you wait. It's pretty cool.
You can see how many people (150+) came on a drippy Monday night. You can see the rapt attention. What you can't see is the love in the room. Laura's introductions for each of the writers set the tone. She called Gina Ochsner her literary hero. She described her devotion and relationship with each of us in such a tender way that a yellow brick road became our path to the podium. And each writer who spoke or read offered really specific and loving tips for writing.
One person who offers practical, winsome advice is Yuvi Zalkow. His video series on writing is painfully poignant. There are few voices in the world as compelling as his. Scott Sparling, whom Joanna Rose also hosted on the panel about writing, is a generous and kind craftsman. He spoke about not liking his characters, the challenge of crawling into personalities so unlike his own.
Two things I heard, in particular, are still rumbling inside me. Joanna Rose talked about the difference between fact and truth, which Kristy Athens illustrated by saying something about small towns, which I can't quite remember, like most of the population of Oregon lives in small towns, but truth is that small towns do not thrive. Fact is the writers spoke about the craft of writing; truth is the writers talked about how to live a writer's life, how to survive.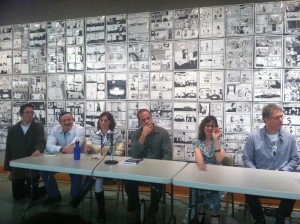 me, Robert Hill, Kristy Athens, Tom Bell, Gigi Little, Scott Sparling, and graphic novel in background, thanks to Julia Stoops for the photo
Another was the image Gina Ochsner created in her piece, "Cynicism," in the book. She described her son being pinned in a wrestling match, how the dominant wrestler became a blanket on top of her son, how the coach yelled, "Great position. Now look up, stand up, let him slide off you," something like that. What love from an incredible coach. What an incredible way to approach cynicism, approach the crushing weight of doubt.
Writing is such a lonely act, and people like Laura create community. Writers who are brave and speak about doubt and despair and triumph in real and specific terms grant us permission to risk in writing, to love in all its mess and mystery.