Here is a letter that I wrote for the Oregon Humanities "Dear Stranger" effort. I missed the deadline, and I'm glad I did because this letter feels unformed. The theme of the series is "quandary," and the quandary was more than I could handle. Can you help me understand?
In the western sky this morning, the moon hung oblong and papery like an empty bee's nest. A star, higher and brighter, hung close to the moon, connected in a line that wasn't there. The moon and star opened the night, the night turning paler as dawn rose on the other side of the horizon. The beauty of that opening spread in me like a swan dive into blue, blue water.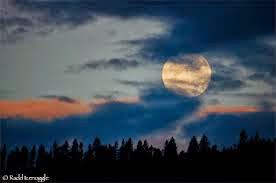 And the evening before yesterday the sunset turned the sky into a pink beach, the tide out, ripples of sand turning pink to purple. The wash of golden light over that beach made the world both fire and water.
I want to know how you bear such beauty?
Between that sunset and this moonset, three young men stormed a Parisian journal, gunned down cartoonists and writers, satirists who pushed readers to pry open the lid of belief and acceptance. A camera caught one of them walking up to a wounded policeman and shooting him point-blank, dead. Twelve people died altogether, and the three men walked away praising God.
I want to know how you bear such brutality?
In a Buddhist sense the sunset fades, the moon sets, and the terrorists are caught or not. Impermanence is the only order. Sometimes I wish I could be Buddhist and detach from hope and fear, but something cellular in me clings to permanence, to the ability to matter longer than a moment.
On a similar note, I can't quite swallow that just as that moon was setting, the sun was rising, and beauty and brutality are a grand balancing act. A student in a class I was teaching on infectious diseases in Africa once suggested that plagues were a good thing because they helped control populations, and since humans were destroying the earth, plagues helped the earth survive. Conservation of energy or life, it seems to me, is too ruthless and offers little comfort. 
And what of God? I'm not asking God to be only benevolent or bestow justice on one people. I'm not asking God to speak in one language or walk in one body or control humans or act rationally. It is magic, after all, that is so moving, so transcendent and divine, like moonsets.

 
What I'm asking is how can a body hold so much? How can one body hold the destruction of beauty, of free thinking as the Parisian terrorists want, the end of creativity, and at the same time, the inspiration of nature, of benevolence, and of kindness? How do you walk this duality? Is the answer always plurality, always paradox? 
What I know is that I love you, Stranger, because you embody beauty and destruction, because you are both perfect and imperfect, which I believe is the essence of what I envision as God. What I cannot love is ruthlessness. I cannot get my arms around that.