OK, so maybe I should have thought more about it: walking up the .8-mile gravel road with 800 feet elevation gain to then ride on the gravel to the intersection of State Road and Dry Creek, and then to head down the 6-mile hill to Mosier to do a ride which would eventually end in Hood River at a bagel shop to meet a friend for a mid-morning bagel… I didn't really think about the cold, 24 degrees, or the fog, or how the fog would freeze on the pavement, or how my new bike is so fast and before I know it, goes 40mph, and how wind adds to cold, and before I know it, I can't feel my feet or hands even though I'm trying to use the brakes and I unclip my shoes and almost drag them in front of me in case I slip on the icy pavement, in case I can keep myself from falling…
I'm not sure why I keep doing these things to myself. Isn't there a definition of madness I should be wary of…? I kept thinking that the uphills would warm me, that the sun would emerge from the hills and low clouds, that the famous Gorge winds would start up, even a little, and blow the fog away. At Rowena Crest lookout, I noticed my water in my Camelback was frozen. THAT meant cold. No one was there so no one wondered about this 6-foot crazy woman flapping and flailing her arms in a vain attempt to resurrect her fingers… I was too cold to text Cheryl.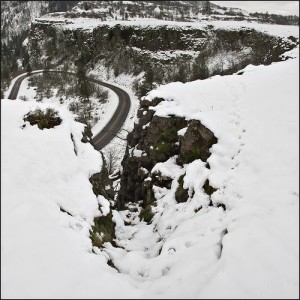 Rowena Crest Loop in snow, not today
Down the hill I went to scramble to Mosier. Five or six deer stared at me when I stopped again to flail and use centripetal force to get blood to my hands. They stared. They didn't run. In the grocery store in Mosier the kind shopkeepers let me stand in the doorway and warm myself. The uphill to the twin tunnel trail helped warm me a bit, and I made it to Hood River and the bagel place. But there wasn't any hot water in the bathroom, Cheryl ordered me a bagel and hot coffee and hot water in a mug, and after 20 minutes I warmed up.
My fingers are swollen as I type this. And from where I sit, I can see Mt. Adams with a lenticular cloud on its top, and sometimes you just have to get out there, no matter how painful. Sometimes you have to start out without thinking of what's ahead or the dangers or the discomfort. Riding's like that sometimes.
So's writing. I don't know where it will take me or how it will freeze me or make me realize how cold I can be or how kind others can be. Those visceral sensations are part of the journey, part of the risk of throwing your body on the path. You might fail. You might get hurt. And you just might learn something about water and fog and ice and forgiveness.