This year has been about sistering. Sistering is a carpentry term: to beef up a joist by attaching another beam or board, bolting them together, so the load on one beam is shared by another. This year I've survived because of the strength of other women.
I learned this term last June when my brothers and sisters returned for a family reunion to our hometown and found that the house we grew up in, the one where many awful things happened, was open. Someone had bought the place and was gutting it, stripping the second floor down to the studs, rebuilding it in order to flip it. Our house had burned in 1966, when I was six, and I had been inside only once since then.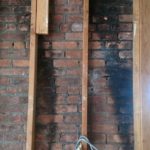 On the second floor when we walked in, there were no walls, only the studs, like the ribcage of a deer carcass, and one bathtub in what used to be the bathroom my sister and I shared. In that bathtub our father did bad things to us. When my brothers and sisters walked into each room, we told stories, not as awful as that memory, and tried to remember how our mother's desk faced the windows in her room, where her chaise-lounge was at an angle, how the front staircase used to curve. In the hall, I noticed a burnt beam bolted to a newer one, the newer one still fresh, with a solitary bead of sap, golden, hard, catching the summer light. One of my sisters said, "Look. They sistered in the new beam right into the burnt one."
And that's what this year has been: the beauty in the spark, joy in the face of destruction.
The sparks I've seen ignite into beauty have been stories, read and written. This year I've written in a prison, in libraries, a Friends' Meeting place, pear orchards in blossom, online, in person, in coffee shops, restaurants, a pub, an American Legion hall, bookstores, church halls, retreat centers, a friend's dining room, college campuses, a yoga retreat center in Tennessee, a writing center in Westport, CT, a music camp in Port Orchard, WA, a logging camp turned into an environmental learning center outside of Ashland. I've written by myself in cottages, cabins, planes, ferries, trains, busses, and cars, on the beach, in the forest, and along rivers. I've heard people read in reading series like Get Nervous, Unchaste, Incite, Burnt Tongue, VoiceCatcher, Grief Rites, Plonk, War Stories, book launches, panels on strong women characters, on trauma and disaster relief, on memoir. I've taken classes and given classes. And I've heard the same thing in every place, in every story, in every voice:
We hurt.
We hunger.
We have to have each other.
At the beginning of this year, millions of women all over the world marched together. In Belgium, Pakistan, Kenya, Sydney, Seattle, on the light rail my partner and I rode to the Portland march, women and girls in pussy hats threw joy in the face of destruction. This year we've heard the #Me,too stories and the bell tolling for sexual predators. Last week Addie Zinone, who was preyed upon by Matt Lauer in her twenties, told her story to empower and validate the other women who have come forward but cannot appear publicly. She said, "I want to put a face and a story to these women's accusations because I'm seeing that they're being doubted and I have to validate their claims." Addie sistered in. Last week Senator Kirsten Gillebrand of NY called for a Senate investigation into the President's sexual misconduct after the dozen women came forward again to condemn the President. She sistered in. Last week African-American women in Alabama sistered in, got out the vote, and ousted a pedophile who might have won a seat in the Senate.
This year I lost a sister-in-law who challenged my siblings when they thought that I would get AIDS, thought I was going to hell when I first came out as a lesbian. She stood up for me. And she stood up for more than me when she named her daughter after Lillian Hellman, when she marched for reproductive rights, when she advocated for kids who fell through the cracks in the CT education system. From her I have gained a niece who is a tree with deep roots, who is a beam of light.
In every writing group this year, I've witnessed brave acts: women writing stories that they read with relief and shame and fear choking them, wracking them, their stories landing in the hands of the other women in the group, landing like a gift, like a jewelry box opening to a dancing ballerina.
This year so much has burned: millions of acres of forests, the freedom to enter the U.S., relationships between our country and the world. But we will bolt the charred wood inside so many things we value to new beams, ones wet with the memory of how they grew. We are such sisters. We are strong with the joy of each other. We laugh. We weep. We are hungry for the stories in each other, in our bodies, the body of stories strong enough to walk out into the cold and dark, to greet the light returning.
Please write your story, read your story out loud, find women to share the load with you. Sister in.