The eagles have returned to the Gorge. It's an event not everyone who lives here knows, but bald eagles migrate through Oregon from the middle of January to the middle of February. They congregate near salmon, at places like The Dalles Dam and the confluence of the Klickitat and the Columbia rivers. Two years ago a friend of mine and I spotted 34 eagles at The Dalles Dam.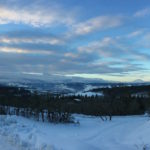 Cheryl and I snowshoed into our place in Mosier this week, and we heard and saw eagles near our house. That's really unusual. Facing the valley in front of us, I saw 2 or 3 an hour soar over the pines and oak. On Wednesday I decided to find what drew them to our particular creek/valley. On my snowshoes I headed for their cries, that high-pitched gurgling, like a baby's. Near us the Dry Creek, which runs half the year (thus the name), cuts a little gorge, and I figured that would make a perfect spot for coyotes to drive deer. When I looked over the edge, I didn't see carnage, but I did see a mature bald take flight, turn abruptly, fly off. I was close. The smell around me was musky, not the cold of the snow or the pines. I was very close. Then, a raven berated me, loud, harsh. I headed straight for its tree. Every 10 feet or so, I stopped and listened. I was expecting to see a bright pink mess in the snow. A huge immature bald startled me, took off from the top of a dead pine right in front of me, brown on brown. Immatures don't like leaving a good thing.
At the base of that tree, under the cover of living pine boughs, I found what the clamor was about. It wasn't pretty. It was difficult to identify what the animal was, and the snow around it was slick but not pink. In me reeled a prayer for that little animal, a gratitude for feeding so many other animals, a sorrow for what it endured. And I ducked under those boughs and could barely breathe for the horror and sadness and awe in my throat.
There's something in you, something clamoring, and sometimes when you find it, it's hard to bear. It can feed you and others. But it's hard.
Thank you for doing this work together. Thank you for trusting this process of writing, of Gateless writing. 
This spring find the clamor in you. Spend 5 days writing on retreat in the stunning Hood River valley, April 18-23. You'll stay in an incredible house, eat gorgeous meals, write all day, Sarah Byrden, another Gateless teacher, and I will guide you back to your bodies. You'll find what's inside you together, walk into it and out of it. Click HERE for more. Click HERE to write me.
You'll return to yourselves. You'll fly.