This month in Mosier has put my bones back in. The rain on Sunday, the gentle knocking, is the loudest thing on our five acres in the hills overlooking the Gorge. Besides the hollow trill of Warblers. Yesterday I wrote in my journal and read while tending a burn pile to get rid of the "fuel," the stumps and windfall, that might feed a wildfire during the dry season. And I planted trees. The day before I rode my bike through hillsides covered with Balsam Arrowroot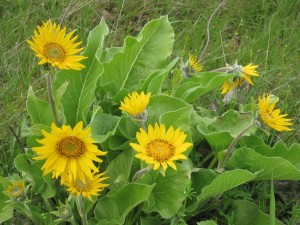 and Lilacs and goats, and I startled deer, horses, a squirrel rolling in the sand, and a Gray Racer, slithering across the road. And I never felt alone. (Cheryl is away on a training gig.)
Writing can feel lonely sometimes, but for me, the solitude is the key ingredient, the quiet. When I carve out the time to focus on gears shifting on a bike, or word choice, like "mud clotted with rocks in root balls," not "mud clods and rocks stuck…" in a poem about the burn pile, the space opens in me for connection. That attention to the present allows creativity, gratitude, hope, pain, forgiveness to align like bones.
In that space to create over the past ten years, a story moved through me. At the pinewood table with Stevan Allred and Joanna Rose and so many other brave writers years ago, I walked into fiction. With many different people since then, I've connected those words, felt the healing process of writing about the trauma of my first year of teaching, a year in a boarding school in Delaware, that was so difficult it sent me running away from the East Coast, leaving everything behind.
Writing this novel with different groups of people, with readers who were kind and direct, like Hannah Tinti, Minton Sparks, Jackie Shannon-Hollis, Cecily Portman, sending it out to agents and publishers for their comments and rejection, reading it page-by-page to a group of dear friends last summer, rewriting it last fall, obeying Cheryl's commands to "go write," has taught me about endurance and faith and luck. Writing fiction for publication is a long-distance event. People make it possible. I'm the one who has to put in the miles, do the hills.
Forest Avenue Press, the brain child of Laura Stanfill, is going to publish that novel, Skin Drag. If ever there were a book written by a community, this is it. So many people helped to write it. While I may have sought solitude to connect words to the page, I was never lonely. And writing it helped me heal the utter loneliness of the real events buried in the fiction.
Thank you, writers, friends, readers, agents, publishers, Laura (you can read her press release here). Thanks for your faith. Skin Drag will be something for your hands to hold in September, 2014.