"Never write about your dead dog," an editor once said to me. She chose the poetry for a large newspaper, and every other poem sent in was about a dog, dying or dead. "Don't do it," she said. "It's a cheap way to get readers to cry."
But here's the thing: how I get through trauma is by writing about it. Especially a shitty thing like my 13-year-old dog dying from a brain tumor four days after she showed the first signs. (Oops.)
It's hard for me to process something without writing about it. My fingers itch to type out what happened those four days and, better yet, all those 13 years. I'm not trying to make readers cry; I'm trying to stop my own crying.
Writing doesn't heal things; it shifts things. By writing something down, you move it from your heart to your hand, and that distance is often enough to do something else with the feelings. Distance doesn't seal a wound, but circulating air helps. It's what I've done to cope with abuse, addiction, loneliness, you name it. I've kept a journal since high school, and writing Julia Cameron's morning pages helped me develop a practice of laying everything down on the page.
When I go to write about something really painful, I need at least two things: The first thing I need is to subvert my ability to compartmentalize. Shutting things in mental boxes has been my coping mechanism since I was a kid and different men did bad things to me. I looked away, kept quiet. I figured something was wrong with me because bad things kept happening. I was so good at shutting feelings away that I didn't remember those things until I was 28 and felt what I thought was safe for the first time in my life.
The way to break down the compartment walls is to soften, to create the condition for vulnerability to rise. For me, that means playing acoustic music that breaks my heart open, like R. Carlos Nakai's Canyon Trilogy. It can mean lighting incense and bowing to Kwan Yin, the Goddess of Compassion, and spinning my prayer-wheel, sending prayers to the starving people in Yemen or the caravan of asylum-seekers walking to the U.S.
Recently, a powerful teacher, Nina Hart, reminded me of Brené Brown's work, and I watched her TedTalk, Listening to Shame. In it, Brown said:
–vulnerability is the birthplace of innovation, creativity, and change
–the critic comes in as shame and tells you you're never good enough and who do you think you are
–and the antidote to shame is empathy.
When the prayer-wheel in my hand turns, I feel the vulnerability of my privilege to be kneeling in a warm, dry room and able to spin a prayer-wheel in a hand that works, and I have to keep that awareness from turning to shame in the short distance from my alter to my desk. Shame can shut me down in an instant and tell me I'm not good enough to write, and who do I think I am… I have to hold on to that vulnerability so that I have the courage to write what hurts.
And in writing this post, I've just realized that I've been praying for years to Kwan Yin, the Buddhist Goddess, who empties a vial of compassion into the ocean. She is the queen of empathy. No wonder. I've had to pour compassion and empathy over myself to quell my shame in order to write.
The second thing that helps me when I write the hard things is a constraint. (I know that sounds like I'm contradicting step one.) The sonnet form is a wonderful one; all that math, the 5 iambic feet, 14 lines, helps create the necessary distance on my emotions so I can put words to them. Pain that is overwhelming can knock out your ability to find words. That's what trauma does. Using different parts of the brain can help you access the linguistic centers. And there are simpler constraints like using only certain vowel sounds. Or letting the sounds of words drive the sense as I've done so often in the novel I'm writing.
I guess the thing about writing what's in your heart is doing what you have to do in order to get the feelings out so you can deal with them. In this case, what I've decided to do, instead of writing about my dog who just died, is fold cranes.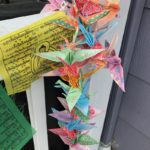 Inside every crane I'm writing something I love and miss about my dog, like her floppy ears, the way she poked me with her nose to wake me up in the morning. And here's the smaller constraint: I'm going to fold 13 strings of 13 cranes, 1 for each year she lived. I'm hanging the cranes on the railing on our deck near where she died with her head on my hand. The winter rains will batter the cranes, fray the thread I use, but if the cranes separate, they may fly, like the prayers in my prayer-wheel, like the feelings that are messy that I try desperately to order. I want my fingers to make pretty things, and in that way, I'll create something like a poem, an elegy for a dog I'm not sure how to be without.